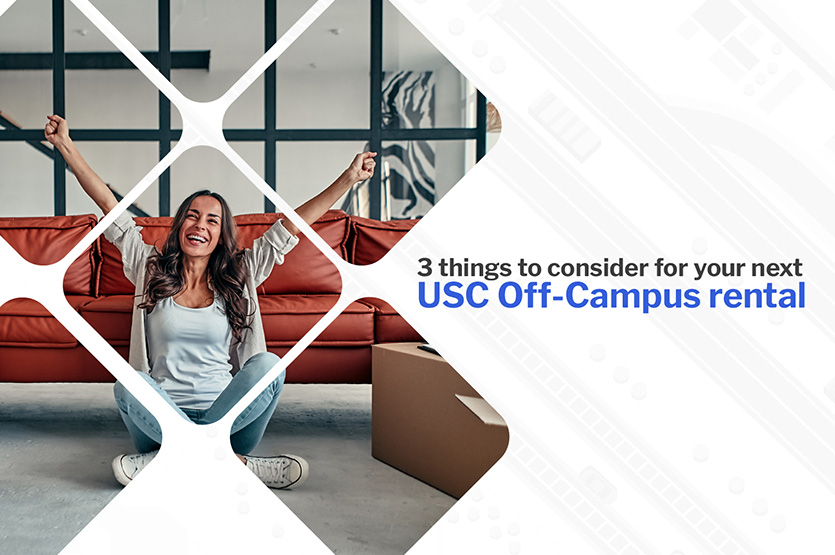 REAL STATE, STUDENT HOUSING / NEAR USC
3 things to consider for your next USC Off-Campus rental
Your next off-campus housing search is about to get a lot easier! We are going through some of the most important features to look for in your next USC rental.
Two big things to consider are proximity to campus and amenities offered! These decisions can be overwhelming, we have done our best to break them down into bite-size pieces that will make your life just a little bit easier. Let's dive in!
Know What You Are Looking For


Amenities matter when looking for any kind of housing and especially USC student housing. Imagine showing up to your new apartment only to realize that it did not have the essentials. Make sure to look into amenities before signing any leases!

Look into amenities that are important to your lifestyle such as internet access, a nice kitchen, parking spots, or proximity to a library or café to study. Remember, you will be living here for a while, it is important to find something that fits your needs. The good news is that CBM's apartments include almost every desired amenity, there is no need to sacrifice or compromise.

Proximity to USC


Our guess is that you will most likely want to be as close to campus as possible. CBM offers various housing options located within the DPS-patrolled area and Campus Cruiser university boundaries.

Each of these areas has various available housing options ranging from condos, duplexes, apartments, and much more! Living just a few minutes from campus can save you time and money compared to on-campus student housing.

Consider Your Budget

How much are you willing to spend? Is your budget flexible enough to have options when deciding between renting versus buying furniture/appliances? CBM housing offers a variety of amenities and living spaces at different price points. In addition, you can share an apartment (or room) with a roommate to share expenses.

Our housing near USC is a convenient, safe, and affordable option. CBM apartments fit into almost any student's budget and are an excellent option for students who want to live close to campus without breaking the bank!

Finding the perfect off-campus rental for USC students can be a daunting task. There are many factors to consider when looking, and our team is here to help! Feel free to give us a call with any questions about what we offer and how it could work for you. Contact us today at (800) 604-3430.
Lately on the Blog